Kingston Floorcovering Warehouse is 100% independent, family owned & operated.
For an extensive range of flooring solutions for your home and office, from carpets and carpet tiles to vinyl planks and vinyl tiles, and rugs Kingston Floorcovering Warehouse has all your flooring needs covered.
We are Hobart's Commercial flooring specialists.
The showroom and warehouse are open for commercial or domestic consultations and sales on Tuesdays, Wednesdays, and Thursdays from 8.30am to 4.30pm.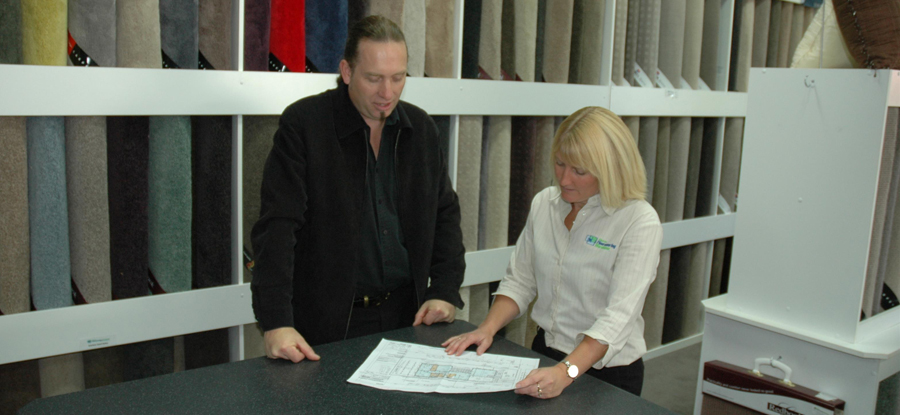 Customer satisfaction from initial quote through to final installation
With a proven track record of experience in the flooring business, Kingston Floorcovering Warehouse will ensure that you develop the best possible flooring solution for both home and office.
We will help you find the perfect flooring solution
At Kingston Floorcovering Warehouse we are aware that choosing a floor covering can be a daunting process.
Our consultants will work with you to choose textures, materials, and colours from our extensive selection, to create a uniquely stylish interior that reflects your needs and complements your existing decor.
Our range of carpets includes 100% wool, 80 / 20 wool mix, nylon, solution dyed nylon, and solution dyed polypropylene.
This comprehensive array of choices ensures that you will find the perfect flooring solution for your home or office.
Professional support
At Kingston Floorcovering Warehouse we offer professional support at every step of the process, from development to installation.
Our professional interior designers will help you to choose from a vast range of flooring materials, and develop an affordable flooring situation that reflects your personal preferences.
We work alongside you to ensure that you arrive at the perfect flooring solution for your home or office.
Our comprehensive consultation process ensures that you consider a wide range of possibilities with affordable carpet prices in Kingston.
Extensive range of carpets
At Kingston Floorcovering Warehouse we have an extensive range of carpets available from all the major carpet manufacturers. These include Feltex, Godfrey Hirst, Cavalier Bremworth, Victoria Carpets, Tuftmaster and Edwardstown.
We encourage our customers to take home samples to match colours and styles with their existing furnishings or to assist in choosing new furnishings.
Our sales team can help you further in your selection if you bring in a fabric swatch, cushion, or paint sample.